Show Both Text and Button
Prices listed are for a 4 hour rental. Rent an additional 4 hours for only $50! Click the check availability button to see what we have available for your specific day, then add to cart and reserve online!
18' Double Lane Water Slide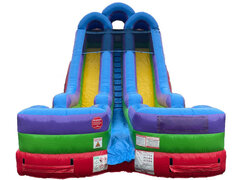 17' Big Kahuna Water Slide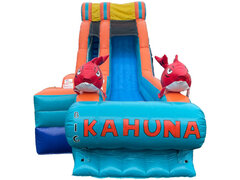 19' Red Rapids Water Slide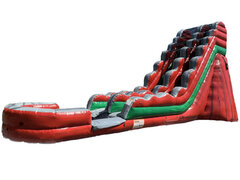 15' Rocky Rapids Water Slide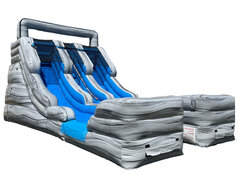 18' Lava Falls Water Slide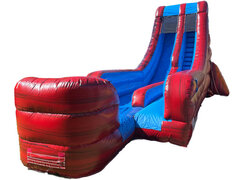 19' Bullseye Water Slide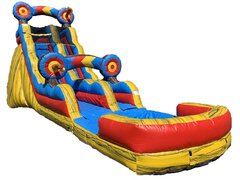 15' Backyard Water Slide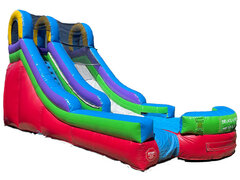 Half Pipe Water Slide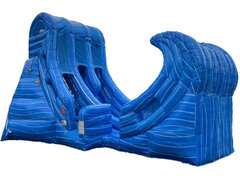 The Best Water Slide Rentals in Raleigh NC
If you're conducting an event that requires a water slide rental, you can find one near your area at Raleigh Moonwalks. We provide a variety of slides that range from children's to adult sizes. Our 15' backyard water slides are perfect for younger kids, and do not take up a lot of space for smaller backyards. For adults, check out our larger options, 18 foot and up slides are great for all ages!
We offer complete party packages so you don't have to worry about what your guest will be doing when they're not sliding. These packages include a water slide of your choosing, a concession machine, and a carnival game.
To hire a slide for your next party, visit Raleigh Moonwalks. Our safety measures are always the top priority. We are well-known for renting only the safest slides for our customers, and take pride in our delivery and setup practices.
Our water slide rentals in Raleigh NC are ideal for any birthday party or event. With their streamlined design, they can easily fit into most backyards. If you are unsure about space, check out the dimensions posted on every product, or give us a call for a recommendation for your available space. In addition to their safe and reliable safety measures, most of our slides can be used by both adults and children.
In addition to water slides, you can also rent a slip and slide to change things up. Slip n slides work great on flat yards or a slight decline, but we cannot place them on steep hills, as this becomes a safety issue.
Let Us Provide You With The Best Inflatable Water Slide Rental in Raleigh NC
The best inflatable water slide rentals in Raleigh NC are available with us. These are safe and fun inflatables that will please children and adults of all ages. And because we're fully insured, you can rest easy knowing you are in good hands. If you're planning a party in Raleigh, a water slide is a great addition. It's a fun activity for all ages.
We offer clean and safe water slides for your next event, and the staff is fully trained to ensure everyone has a great time. Consider renting from us if you're planning a party, from birthdays to casual corporate events, these are the perfect addition to any party. The fun factor is unmatched by any other of our competitors' offerings.
When planning a party in Raleigh, NC, check out all the items we have in our inventory. We are the best party rental company in Raleigh NC for your kids' party. We are fully insured and have trained staff to ensure a seamless delivery. We also have an awesome selection of bounce houses with water slides to choose from. So if you're planning an event in Raleigh, browse our website and check out all the available options. If you're unsure, give us a call to discuss the perfect inflatable for your party.
Why Choose Us?
Inflatable water slides are a great way to beat the summer heat! You'll never find a better way to entertain your guests than with a water slide. With a constant stream of water flowing down the slide, your guests are guaranteed to stay cool as they continue to slide.
Raleigh Moonwalks is the #1 party rental company in Raleigh. We are a professional company that offers clean, safe, and well-maintained inflatables. We offer the best bounce house, water slides and much more in Raleigh, and are fully insured. The staff members at Raleigh Moonwalks are trained to handle any issues that may arise. We are an excellent option for any event occurring in Raleigh NC.
Contact Us Today For All Your Water Slide Rentals Needs in Raleigh NC
Raleigh Moonwalks is the #1 party rental company in Raleigh NC. We will provide a safe and clean inflatable slide rental for your next event. Our water slides are equipped with safety and security features to ensure the safety of your guests. Moreover, we have the best prices in town, and we take care of everything, from setup to pickup, we will make the process as easy as possible! Typical delivery times are 15-30 minutes, leaving you plenty of time to attend to your guests and prepare for your party. If you're looking for the best water slides in the area, check out Raleigh Moonwalks without any second thoughts!
If you're looking to hire a water slide for your next party, you have come to the right place. Raleigh Moonwalks is the premier provider of bounce houses, inflatables, and water slide rentals. With dozens of slides in stock, you can find the perfect one for your next event! Our 5 star rated water slides are the ideal way to add a fun twist to your special event! If your event will have a large group of guests, you can also rent multiple water slides for the party.
Inflatable water slide rentals in Raleigh NC provide a fun and exciting way to celebrate a special day. Everyone loves the thrill of sliding down a giant inflatable. They are a great addition to any backyard or celebration. A large water slide will capture everyone's attention and become the event's highlight. There are many different varieties of water slides, so you can find the one that suits your needs.
A large water slide is the best choice for any summer day. A giant slide will grab everyone's attention and become the center of attention. This attraction is great for children of all ages and is sure to keep them entertained for hours. Thus, whether you're planning a birthday party, a church event, or a summer carnival, a water slide rental in Raleigh NC is a great way to make your party a memorable one.
Contact us today to get the best units and make your event eye-catchy like never before!